With 2018 only two weeks in, it is amazing to see how many musicians are killing the fashion scene. In an age internet and pseudo-glamour, it's hard to stand out among the masses. Often times we recycle or refresh classic fashions from the 70s, 80s and 90s. SOHH Fashion Correspondent Chant Farrar here with five music videos with killer looks and odes to trends from decades before them and links to some the items featured.
1. "She For Keeps" by Quality Control, Quavo & Nicki Minaj

Just a week old, Huncho Jack himself aka Quavo and Nicki Minaj joined forces to create this 80s inspired music video. Directed by The Daps & Quavo himself, the music video features an iced-out Quavo in light wash blue jeans, graffiti print beach shirts, a fanny pack and neon wind breakers.
Onika sported her staple blonde bob and a half blue wig for hers Barbz. The rap game's head mistress showed f just how "perfect" her body was in the videos bedroom scene: wearing Bejewled 3019 Thigh Highs and Alaïa Leather Studded Waist Belt all to tie up her La Perla Brit Remix Swimsuit bathing suit look..
2.Finesse by Bruno Mars (Remix) ft. Cardi B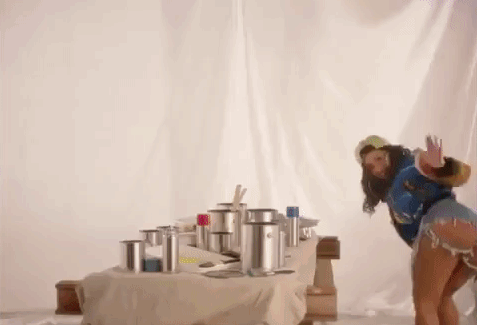 The duo surprised the world with this vintage late 80s early 90s inspired hip hop track titled "Finesse". In an internet frenzy, Bruno dropped the video the same time he dropped the song. Bruno is sporting a solid nineties favorite in classic moschino and cross colors tee. The real prize the video was Cardi B, she was "drippin' in finesse" in Jeremy Scott x Moschino lined interior blazer .
3."Trap Phone" by Don Q Feat. Desiigner Rap crooner Don Q joined "Panda" trapstar Desiigner for his new song "Trap Phone". The rappers ganged up so they could show f their ice & pricey duds. The video shows a Don Q in a Gucci wool tiger sweater and Designer & Q sporting trendy white & powder blue fur coats. You can also catch Desiigner in Dries Van Noten's embellished black bomber.
4."Flip" by Russ Rapper Russ swoops in with his new record "Flip". The visual just came out (Jan. 17th) and has already garnered a hefty amount views. The video features the young emcee wearing a men's dark gray fur & through out he shows f his chains and his knuckles & wrists as they glisten in men's full diamond rings.
5."Outside Today" by NBA Youngboy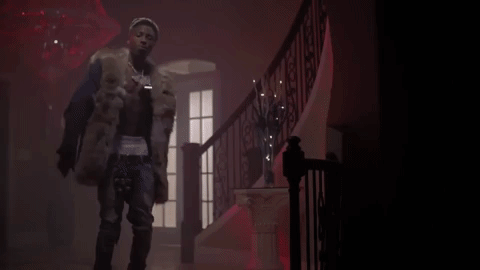 NBA Youngboy is new blood on the rap scene but he's no stranger to the money. His name stands as is Never Broke Again Youngboy.  NBA can be seen in his new video wearing the Hasta Muerte City God "Honesty Doesn't Pay" t-shirt and a men's fur stole.
That concludes the list fashion forward videos early 2018. Have a favorite look? Think any we missed? Be sure to tell us and leave a comment below!
Have some fashion tips? Need to make a suggestion? Reach out to Chant Farrar below!
E-Mail: email protected]
Instagram: https://www.instagram.com/chantfarrar/
Website: http://chantmagazine.com/